Blog
Rebel Stalks a Bird on the Missouri River
August 15th, 2012

Our calico cat Rebel and I were on the patio enjoying a pleasant summer rain this morning when she went into the kitty slinky stance that cat?s do when on the stalk.

Rebel spotted a Sand Piper sitting on some moss that has collected on a sand-bar directly below the deck on the Missouri River. The unique thing about this bird (one I haven?t seen before) was it?s flickering tail. The tail on this bird was in continual up and down motion as it walked and fluttered over the moss cover on the sand-bar.

Does anyone recognise this bird? Kent Bech Hald from Denmark identified it as a Sand Piper. Thanks Kent.

Fortunately there was about five feet of swiftly flowing water between the bird and Rebel. Rebel like most cats is not really excited about swimming!

After watching the bird for about five minutes Rebel looked back at me like I was supposed to offer her some kind of help in her effort??..

My trout fishing efforts latter that morning were about as productive as Rebel?s stalk?. LOL? None the less it was an other beautiful day on the Missouri River in Montana.
Montana State Fair Special Rates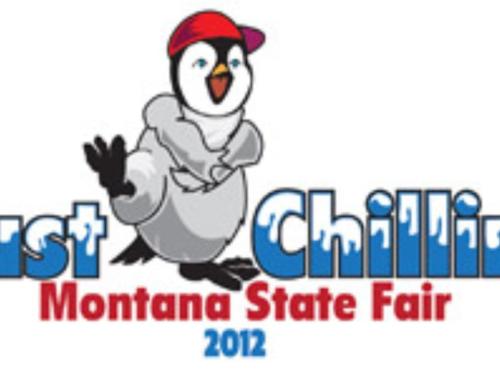 Stay for 3 nights in any of our rooms at 
River?s Bend Lodge
 and receive the 4th night free during the Montana State Fair, at Great Falls, Montana. July 27th thru August 4th, 2012.
Cindys Oatmeal Bake is this Summers Breakfast Highlite
July 26th, 2012 by sorendetienne

Cindy?s ?Oatmeal Breakfast Bake? has been the breakfast most requested by our guests this summer. The starter recipe was given to Cindy by a guest from southern Idaho last year. Cindy of course had to experiment with the recipe and enhance it a little, to make it an original River?s Bend Lodge Speciality. Needless to say like all of Cindy?s cooking the result was fantastic.

Hotel Pan 10×15 Pan

2 Cups ????????1 Cup??????.Oil

4 tsp ?????????2 Tsp??????.Salt

2 Cups????????.1 Cup??????Brown Sugar

2 Cups????????.1 Cup??????White Sugar

2 Tbls + 2 Tsp????.1 Tbls +1 Tsp??Baking Powder

8 ea ?????????.4ea ???????.Eggs

4 Tsp????????..2 Tsp??????..Cinnamon

1 Tsp ????????1/2 Tsp??????.Nutmeg

10 Cups???????.5 Cups??????.Oatmeal

4 Cups????????2 Cups??????Milk

2 Cups ???????..1 Cups??????Dried Apricots

2 Cups???????..1 Cups??????Craisins (Cranberry Raisins)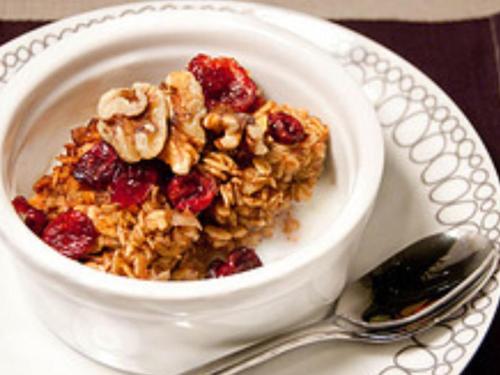 Mix oil, Sugar, Eggs, Oatmeal, Baking Powder, Dried Fruit (Quartered dried Apricots)and Salt in mixer with whip. Mix in Milk. Spray pan with Pam and pour mixture into pan.

Bake 30 t0 40 minutes at 350 degrees is a regular oven or until firm to touch and golden brown on top??.in a convection oven it may only take 25 minutes to cook. Let stand at least 1 1/2 hours before baking.

Take out of oven and allow it to rest (cool down) at least 10 minutes cut in to desired serving sizes?? these servings can also be wrapped and frozen for later. When frozen remove from wrap and Microwave for 1.5 minutes on high.

Serve Baked Oatmeal with heavy whipping cream and canned peaches. Mmmm Good
Spring Snow, March on the Missouri River in Montana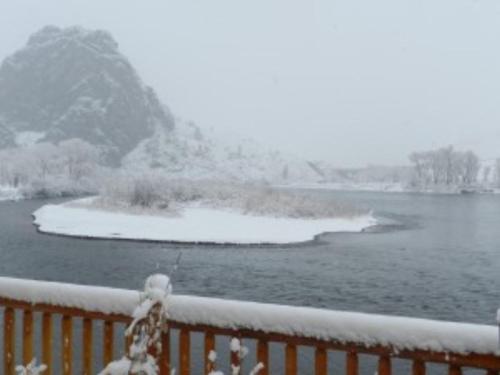 I woke up this morning to snow on the Missouri River, what a beautiful view we have. This winter we have not seen much snow in the lower elevations (below 6000 ft above sea level). Spring snow is my favorite it is usually fluffy, heavy with moister, very clean, and doesn?t last long all good things to my way of thinking!?LOL
I haven?t been keeping up on my New Years resolutions to well yet but I hope to catch up soon! I have been fishing more times this year so far than all of last year however.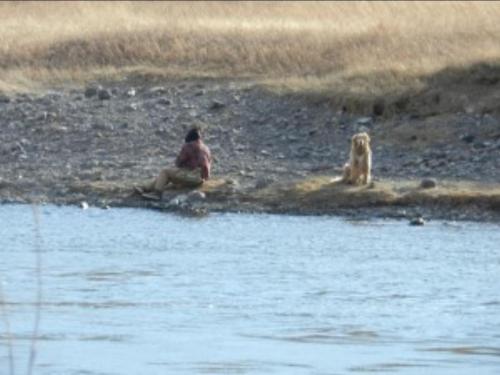 My son-in-law Justin Myles, my son Justin, and I took our new RO DevilleDrift boat out for its virgin float last week. We were up at 6am to make breakfast and get an early start? none of us could sleep we were so excited kind of like the first day of hunting season?the anticipation?you know! We put in at Stickney Creek Access at 7:30am it was a little cool and overcast but not a lot of wind, we went aground just under the Deerborn exchange interstate bridge and I had to get out and tow the boat back into deeper water so we could proceed down river. The boys caught their first fish at 10:30am after the sun came out and warmed things up a little?. it is a good thing the the beer was ?. COLD?.that first 3 hrs ?. we forgot the HOT COFFEE, most of our fishing gear, lunch, our heads? not really?we did remember the boat, the drain plugs, the anchor and our life jackets?.and only because Marci, my daughter and Justin?s wife reminded us at least 15 times? the Justins each caught about 4 or 5 trout fairly equal amounts of rainbow and browns 16 to 20 inches in length. I got skunked? but I did row most of the time? and untied air knots about 50% of the time I fished?FRUSTRATING?.did I ever get razed. The wind picked up around noon and Justin(my son) was pouting because he was hungry so we put in at the Prewitt Creek Access about a half mile upstream from the Lodge. It was a great day on the River!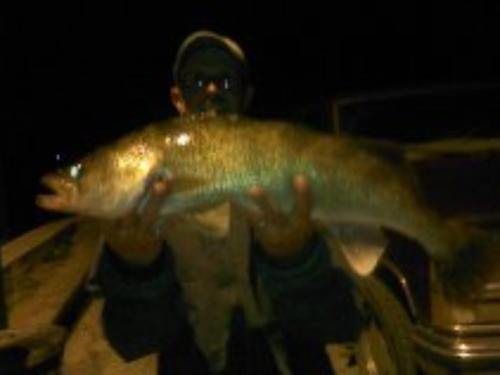 I asked the boys to send me their photos from the float for this blog and my son-in-law Justin said ? I?m also sending you a photo of the 32? Walleye I caught on the Missouri.? WOW
Ramblings of an old man along the Missouri River in Montana
Today January 9th, 2012 I made my first New Year?s resolutions, but it?s ok because I?m old (almost 60) and everyone knows old folks are a little slow!

New Year?s resolution

To do this blog at least twice a week (I was thinking everyday but an old guy might not be that ambitious). In each blog I will tell you of my fishing adventures and show you photos of Montana.
To walk at least an hour every other day (more ambitious) bad back and leg allowing me to.
But most important resolution is to fish as often and as many different rivers and streams as possible this year. I live on one of the best Blue Ribbon Trout Streams in the United States, the Missouri River at Hardy Creek (about 12 miles downstream from Craig). I am also within a one or two hour drive of 6 other Blue Ribbon Trout Streams.

Today as I was beginning my walk I observed a Bald Eagle In the river I?m not sure if the eagle had caught a fish and was having lunch or just bathing, whichever, it presented a good photo opportunity.

About 30 minutes into my walk I noticed this man and his best friend fishing the Missouri just upstream from the Interstate 15 bridge crossing the Missouri River near Hardy. What a fine outing for a man and his  dog. It was about 45* F and windy, this year with the warmer temperatures, have also came high winds, today?s 24 MPH WSW. Still a nice day, any day on the river is a good day!

With my picture taking and sight, seeing this was a 2 hour adventure. With a little luck maybe I will be able to fish this hole I discovered on the river.  Looks good to me what do you think? Are there any fish here? The man with the dog caught one while I was watching them, on the other side of the river of course.