Blog
Appel or Apple-Pear Sour Cream Coffeecake Muffins
February 28th, 2011
When you stay with us at River?s Bend Lodge, a Montana Bed and Breakfast on the Missouri River, you will always get fresh homemade muffins with breakfast usually the first day will be these wonderful Sour Cream Coffeecake Muffins. If I add the Apple or Apple-Pear to the recipe I usually try to cook them the evening before as the apple flavor requires some resting time for it?s flavor to permeate through the whole muffin. Mmmm good.
Topping:
1/2 cup brown sugar
1/2 cup finely chopped pecans
1 1/2 teaspoons of cinnamon
Muffins:
1 stick of butter salted (1/2 Cup)
1/2 cup of sugar
2 large eggs
1 cup sour cream
1 1/2 teaspoons vanilla extract ( Pure Madagascar Bourbon Vanilla Extract from Ross stores is my favorite.)
2 cups all purpose flour
1 teaspoon baking powder
1 teaspoon baking soda
1 Granny Smith Apple or Apple-Pear (usually available at Sam?s or Walmart)
PREHEAT OVEN TO 375* F GREASE MUFFIN PAN (PAM COOKING SPRAY)
Mix butter,sugar, and eggs. Add sour cream and vanilla and dry ingredients while continuing to mix. Saute the cored,pealed, diced apple in butter until softened usually 1 ? 2 minutes sprinkle with cinnamon while sauteing, add to mixed batter along with all but 2 table spoons of the topping mix. Using a spatula cut through the batter to marble the batter with the topping mix and sauteed cinnamon apple.
Spoon the batter into 12 greased regular sized muffin cups and sprinkle the remaining two tablespoons of topping on top of the muffins. Bake for 22 minutes I usually turn the pan around a 11 minutes so one side doesn?t cook more than the other.
Recipe for Shrimp Diane
February 23rd, 2011
Shrimp Diane
 ( My favorite Seafood Pasta Dish and February?s Dinner Special)
13/4 lb medium shrimp with shells
6 tbsp, in all Basic shrimp Stock (see below)
1 1/2 sticks of unsalted butter, in all
1/4 cup very finely chopped green onions
3/4 tsp salt
1/2 tsp minced garlic
1/2 tsp cayenne pepper
1/4 tsp black pepper
1/4 tsp dried sweet basil leaves
1/4 dried thyme leaves
1/8 tsp dried oregeno leaves
1/2 pound Mushrooms, cut into 1/4-inch thick slices
3 tbsp very finely chopped fresh parsley
French Bread, Egg Noodle Pasta, or hot Basic Cooked Rice
Rinse and peel the shrimp; refigerate until needeed. Place the shells in a 2 quart pan and add water until it is about 1 inch over the shells, bring to a boil add 1tbsp of old bay reduce heat, cover, and continue boil for about an hour. (this is your shrimp stock)
In a large skillet melt one stick of butter over high heat. Add the green onions, salt, garlic, ground peppers, basil, thyme, and oregano stirring well as you add. Now add the shrimp and saute just untill they turn pink, about one minute, shaking the pan (versus stirring) in a back and forth motion. Next place the mushrooms and 1/4 cup of stock, add the remaining 4 sbsp butter in chunks and continue cooking and shaking the pan. while the butter chunks are melting add the parsley,and the remaining 2 tbsp of stock; continue cooking and shaking the pan until all ingredients are mixed thoroughly and butter sauce is the consistency of cream.
Serve immediately over the Egg Noodles in a Pasta Bowl with lots of French Bread on the side. Mmmmmm good.
The River?s Bend Lodge, a Montana Bed and Breakfast?s, recipe varies only slightly from Chef Paul Prudhomme?s. Cindy refuses to use white pepper in anything she cooks, the shrimp stock is Cindy?s recipe, and she prefers to serve it over Egg Noodle Pasta. You will want to have plenty of French Bread for dipping and getting every last bit of this spicy delicous Butter Sauce.
Cabin Fever, Winter Blues? Get Lost in Montana!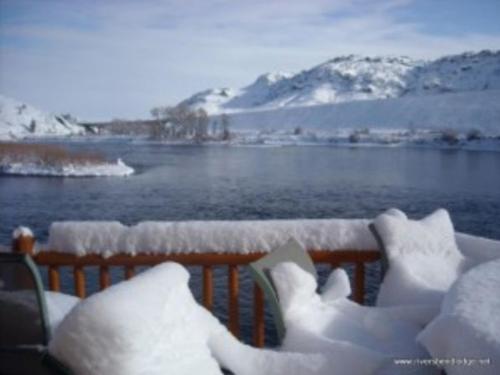 February 9th, 2011 by sorendetienne

This has been a long winter a cold and snowy November, December, January, and now February, has me crying ? IS SPRING EVER GOING TO GET HERE ? ? I don?t know why these local Canadian Geese haven?t left for warmer areas yet? but, they are sure complaining about the weather honking and gathering in tight gaggles on the island north of the Lodge?s snow covered patio! I can tell when it is below zero just by looking out of the upstairs window facing the island if I see about 30 blown up puffs of feathers and no long necks or feet, IT?S COLD OUT THERE!

We are actually lucky in Montana, we have lots of Snow Plows and dedicated crews to keep our roads, highways, and streets drivable. It also helps that we don?t have Millions of drivers of course!

I think in Montana, at least down here in the ? Banana Belt? as we used to call South and Central Montana when I lived in the Northeastern Montana (Scobey & Plentywood area, the Arctic Circle) below zero temperatures are more of a hindrance to getting out then the snow is.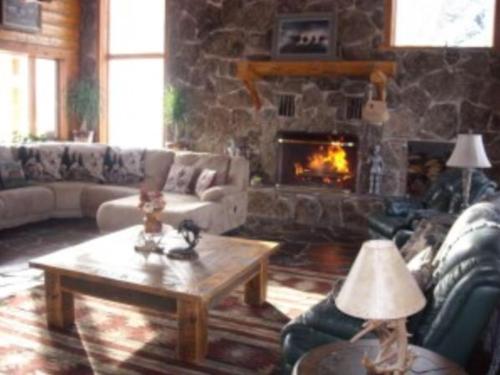 Cindy and I have been getting ready for our Valentine Special Guests?, cleaning house, watching the fire burn, fine tuning Cin?s recipe for Shrimp Diane, Homemade Ice cream, and Muffins. The Girl can cook, I don?t mind being the chief bottle washer at all, as long as I get to be the official taster as well! LOL
Super Bowl Sunday she made T-bone Steaks Madrid, sautéed onions and baby red potatoes, and steamed asparagus????? WOW! A couple of beers and Green Bay Packers winning, I was in Heaven.
Cindy and I are looking forward to meeting all you February couples seeking a LOVER?S GET-AWAY at 
River?s Bend Lodge
.
Ladies Treat Your Men; Men Suprise your Ladies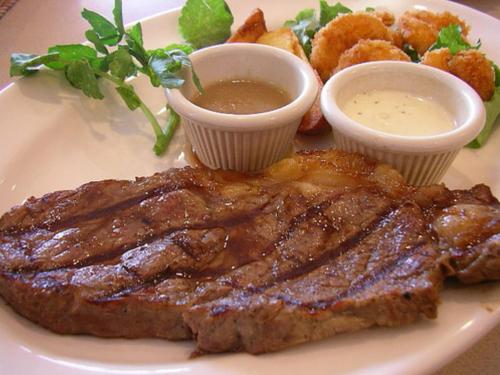 February 5th, 2011 by sorendetienne
The River?s Bend Lodge is offering a 
February Special in Honor of Valentine?s Day
. All inclusive Lodging, Dinner, and Breakfast for $215.00 , (second nights Lodging and Breakfast only $135.00)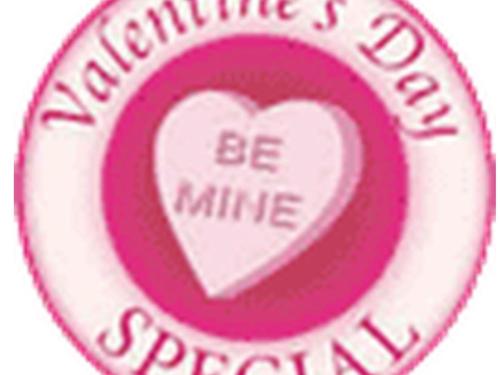 What man/or lady wouldn?t want a lover?s getaway with great food, wonderful beds, peace and quite, lots? and lots of personal attention ?.. by your other half. All this fun in a Rustic Lodge only a half an hour from Great Falls or forty-five minutes from Helena, on the scenic Missouri River at Hardy Creek.

Any reservations made online prior to February 6th will recieve a 10% discount on the first nights stay by entering the code word Cupid or simply telling us at check-in.
February, the Weather,the Birds, & the Food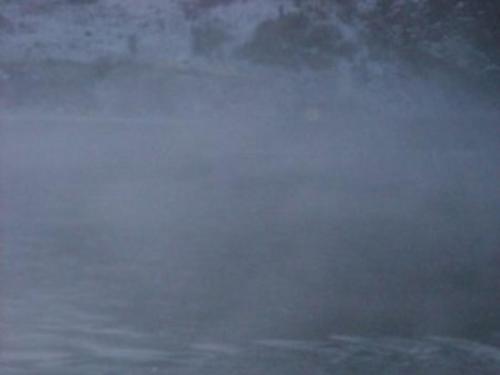 February 1st, 2011 by sorendetienne

This is what it looks like looking across the river this morning and for the last couple of days the clouds of frozen moisture coming off the river and ice flowing down very little visibility.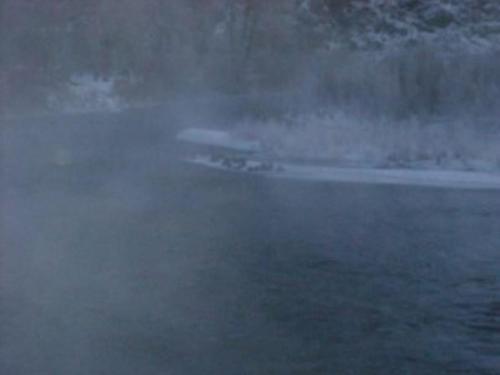 The good news is what Cindy is up to? Testing recipes and fine tuning them in her special way and guess what? I have to be the official taste tester now this is tough duty but hey, somebody has to do it! This time the recipe she is critiquing is Shrimp Diane, (this is just my all time favorite seafood dish) but I will suffer though these days of testing? for your dinning pleasure. When spring finally gets here? I may have an extra 50 lbs to lose. Shrimp Diane is our February Valentines Special, Cindy?s recipe for this dish will be posted on our blog as soon as she has finished developing it soon?. and no their are no testing left over?s! (I?m sure it part of my job description to eat all of them)LOL

The geese are having a bit of a tough time with this weather can you see them huddling together on the island? Between the clouds of frozen moisture and my camera?s lack of magnification it may be difficult.
Valentines Special Meals & Lodging $185 all inclusive!
During February at River?s Bend Lodge you will receive one nights lodging for you and your Sweet Heart, a romantic Dinner and Breakfast all inclusive for $185.00. This Valentines? Special is available the entire month of February.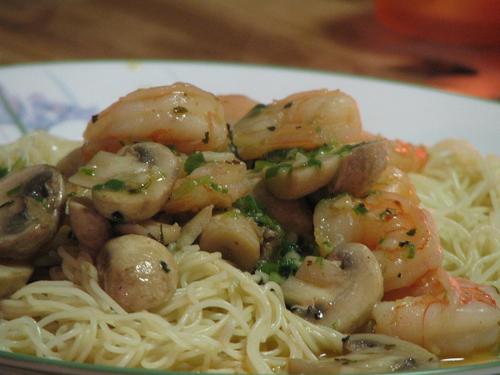 Dinner will be Shrimp Diane prepared from Chef Paul Prudhomme?s recipe by Cindy. This mouth watering Cajun dish is to die for, a Cajun seasoned, Shrimp sauté over pasta. Shrimp Diane has been one of my favorite dishes since I was introduced to it by Bruce Baumgart, in 1985 while he was the Executive Chef at the Park Plaza Hotel in Helena.

For breakfast we will serve an Iron Skillet Pear Pancakes, homemade muffins, bacon and hash browns.