Blog
On The Missouri River Today FishingSight Seeing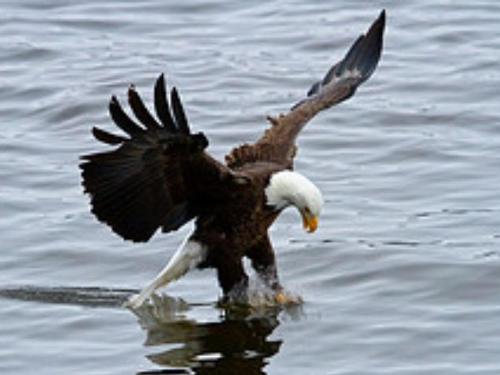 September 9th, 2011

At 6:30 AM this morning, while cooking a Cowboy Skillet Pancake breakfast for my guests Kelly and Ewald, a couple from Ketchum, Idaho, I heard an eagle screeching and went out on the deck to see what was going on. On the island just north of the deck a Mule deer faun was standing, legs braced staring down at an adult Bald Eagle that was standing about 10 feet away? directly over head a young Bald Eagle was circling and screeching. As the adult eagle took flight the young eagle attacked it and struck it several different times while they were in-flight across the river. The adult eagle landed in a tree top on the other side of the river near the irrigation pilings, and the young eagle landed about 20 feet higher up the hill on a dead branch. It occurred to me that this was not an attack but maybe some kind of a training exercise. This thought was pretty much confirmed later when I looked for eagles again they were both sitting on the dead branch!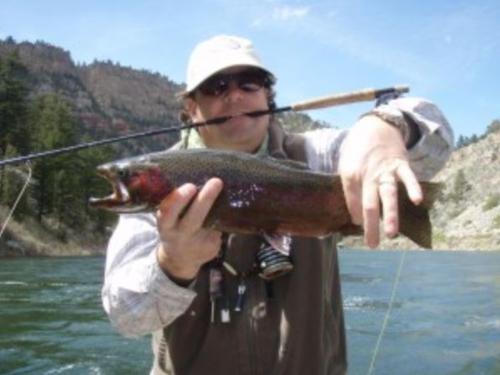 Ewald is from Austria and wholesales Fly-fishing gear in Europe. He lives in Sun Valley, Idaho most of the year his wife Kelly and travels back to Austria several times a year for business. He was excited about fishing the Missouri this morning Kelly and he were putting in at Holter Dam and floating to Craig for the first run this morning.

As they were finishing breakfast this morning a good hatch of Tricos was taking place right off the deck. Ewald told Kelly ?They are doing the wedding dance we have to be on the river by the time it is over and they start to hit the water LET?s GO!?

The podded fish are eating Trico spinners , and Caddis. Of course the hopper fishing is great for the larger to medium sized trout. The fishing has been better since the weather has cooled off some.
2 Sisters trek through Montana & visit Yellowstone & Glacier
August 14th, 2011 by sorendetienne

It was hard to leave the Tetons behind, but we were really looking forward to another day in Yellowstone to see the iconic Grand Canyon and both the upper and the lower falls. It seems as if we drove along water most of the day, with smaller lakes dotting the way until we reached the shores of massive Yellowstone Lake, the source of the Yellowstone River. By the time we reached the Lower Falls, we were both hungry and tired. Mary Jane was afraid we had lost the best light of day for photographing the falls. But to our amazement and delight the subdued evening light actually enhanced the depth of color. The Lower Falls were roaring with the spring run-off, wondrous, but making it difficult to talk. The Upper Falls swept through the canyon, like the lesser sister of the Lower Falls, ?steaming clouds of glory? in her thundering descent. Even though it was between 5-6:30 pm, the light was quite remarkable as it streaked the canyon?s flanks in a palette of rich earth tones, varying from pale sand and amber to burnt umber and deep orange! Upon reviewing the photos in our little Canyon Village cabin, Mary Jane was ecstatic over what her camera had captured! As a seasoned photographer, she knows such light is rare, if not impossible. That wasn?t our only unexpected blessing of the day. Well after dark, Mary Jane squealed as she pulled back the curtains and looked outside. ?Pat, you won?t believe it. Hurry, get out of bed! Come and see!? Only a sister who knows me so well could anticipate the childlike delight I felt as she whispered, ?It?s snowing!? The flakes were small and delicate, more like a fine dusting of powdered sugar covering the ground and our parked car. We squealed aloud together! Snow, beautiful snow was falling in Yellowstone National Park. It was the fitting close to an already perfect day!

We underestimated the driving time? Let me correct that: Pat underestimated the time! Driving from Canyon Village to Cascade, south of Great Falls, was a full day?s drive. It would have been shorter if we hadn?t gotten lost three times, once looking for a place to eat and the second and third looking for a Chevron gas station! Finding the small fishing road in Cascade to turn onto was challenging, to say the least. That?s because I (Pat) am directionally challenged! Remember? When we got to the bridge, we knew we had gone too far. We did at least arrive by late afternoon instead of after dark!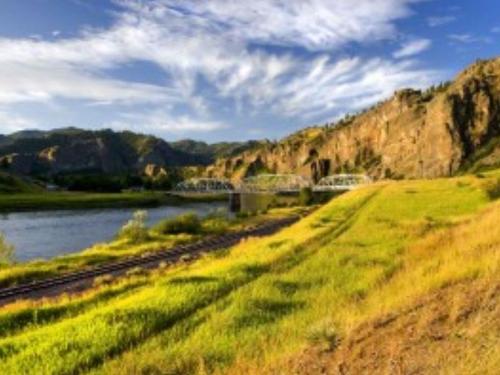 Were we ever grateful. Soon, we were driving up to one of the most gorgeous log homes either if us had ever seen. The inside was even more magnificent! Each massive timber, stone, decoration and furnishing has been chosen with care and attention to every detail. The stone fireplace with the mounted elk trophy is especially rustic and central to the living room & the theme. River views abound. When Soren lit a fire & invited us to sit and talk, we were no longer strangers meeting at the end of the day. Instead, we were becoming friends, feeling comfortably at home. The only thing I forgot to bring was my fly fishing gear. How I would have loved to fish the Mighty Missouri River! As it was, the walks around the property and along the river?s edge were just the respite we needed after the crowds of Yellowstone! The quiet of our surroundings and the lapping water brought peace to our souls. Not a detail was missing to make us feel welcome, pampered and free to be ourselves. Breakfast was phenomenal! One look at the stove and the kitchen tells any guest that there is a cook in residence! And we were not disappointed. Sitting at the table feasting, as streams of morning light warmed us in the quiet, was a soothing way to begin the day! Nearby, a muskrat swam, hummingbirds darted among the brightly colored flowers, and an eagle soared in tandem with our hearts! Our only disappointment was expressed in our lament upon leaving: ?Why didn?t we stayed two nights??

If you have a heart for adventure, unexpected wildlife sightings, awesome catches of fish, superb conversation and excellent cuisine, head for River?s Bend Lodge, Montana. It is a gorgeous, hand crafted, log home right on the Missouri River. Actually, it is right next to a site where Lewis & Clark camped during their expedition! We wouldn?t have missed staying there for the world!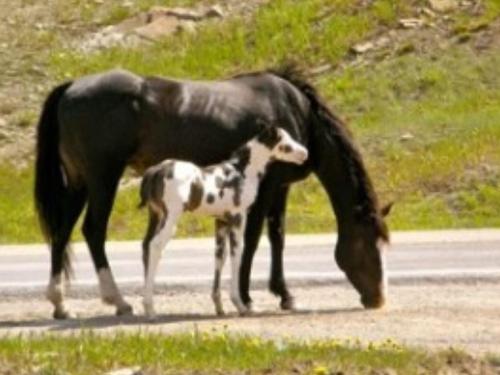 Soren gave us superb directions to Glacier National Park?s east entrance, and we were on our way. Goodbye Tower Rock State Park! Goodbye Mighty Missouri River! Goodbye new friends Soren, Cindy & Justin! Time was fleeting, but we still had half of our adventure before us and I could hardly wait to see Glacier National Park, the way Mary Jane had described it to me, with my own eyes. Much of the East side of Glacier is an Indian reservation. We passed wild ponies, Pintos and Paints, and bright strips of cloth tied around tree trunks to mourn the Indian?s recently departed. They will let the colors blow in the wind and bleach in the sun until they turn as white as bones? Due to Soren?s directions, which we followed to a ?T?, in no time at all we were approaching Many Glacier Lodge, one of Mary Jane?s favorite places. It is easy to see why! Situated on the shore of Swift Current Lake and ringed in snow capped peaks, it reminds me of Switzerland! Ah, at last! Maybe we wouldn?t have a lakeside room, but who cares when you are in paradise?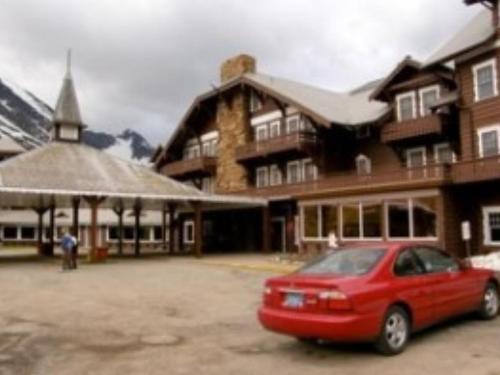 Upon entering the Swiss style lodge, it seemed rather dark at first. I attributed that to the sunglasses we were still wearing! But why is everyone wearing jackets and hovering around the giant copper fireplace, I wondered? ?What was that the woman told us at the check-in window, Mary Jane! Did she say the power is out????Oh, well. It?s all part of the adventure,? quipped Mary Jane. ?It will give us a great story to tell when we get home.? ?And besides,? I added, ?we are both stalwart former Camp Fire Girls, used to the great outdoors! We have flashlights and plenty of blankets. What more do we need?? As some NOT too pleased guests began leaving, we counted it a blessing. When the couple across the hall left, leaving their door ajar, we ended up with a lakeside view after all! Snuggled under blankets out on their balcony, we breathed in the crisp air and mountain view as we watched the swallows playing upon the wind. Food was definitely a problem? Without power, the kitchen was closed, shutting down both the formal dining room and casual bar area. As the hotel staff set flashlights up and down the halls for safe passage and cranked up their BBQ, we grabbed the last sandwich in the deli and retreated to our room with our handy flashlights lighting the way! More disgruntled people were leaving, but we took it all in stride. Why would people get upset over a little power outage? Had they no sense of adventure?

Just as I was getting into my jammies (at 7:15 no less!), I heard someone knock loudly at the door. Much to our surprise, a friendly and calm employee announced: ?Time to evacuate the lodge, ladies!? ?Evacuate!? I exclaimed. ?But we have our own flashlights plus plenty of wool blankets! We?re all set. Actually, we?re looking forward to the adventure and?? Interrupting my reflection, he continued: ?You don?t understand. It isn?t just the lights and heat. The electricity also powers the water pump. We have no water, which means we have no working toilets, and that?s against the law! You must leave!? ?But where will we go?? we queried. ?I don?t know? Ask at the front desk.? By then, the lodge was nearly empty of guests. Where had the hundreds of guests gone? Why, to other hotels in the area, of course! We were getting a very late start if we intended to find a place to spend the night! What was that she said? ?Maybe there?s a room available at The Rising Sun in St. Mary?s?? ?How far? Twelve miles on those roads? You?ve got to be kidding!? I pictured my sister and myself without lodgings, hunkered down in the car for the night, nearly freezing to death, whimpering for a hot latte! Not a pretty picture!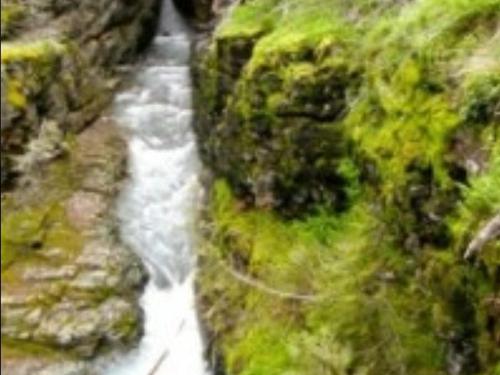 That is when the real adventure began! As I drove at reckless speed over wash-outs & chuck holes, hoping to find a bed for the night, Mary Jane was merrily taking photos out the car window, exclaiming over the view and the late evening light! Humph! We arrived at The Rising Sun Motor Inn ten minutes later (well maybe 15-20!), lurching to a halt while the dust wildly followed us! Gratefully, there was a room. A cabin. ?What was that she said, Mary Jane? The sink is on the outside? What is it, some old Boy Scout cabin or a fisherman?s slimy lair? Is there anything else? Anything? One very small, plain motel room? We love small! We love plain! We?ll take it!?

The next morning saw a repeat of the night before. Having been told that the power was not yet on at Many Glaciers, we dallied over our breakfast, smiling at our good luck to have found a room the night before! We were so busy laughing at our misadventure that we hadn?t noticed we were the last ones left in the Rising Sun Diner! What did the waitress just say? The power has been back on at Many Glaciers for over an hour and everyone else has returned to claim any available rooms! You?ve got to be kidding!

Reverse of the night before: Pat, wildly careening over roads with seemingly larger washouts & chuckholes fearing sleeping overnight in the car, freezing & whimpering for a hot latte (wait a minute! I don?t even drink lattes! I?m allergic to coffee!). Mary Jane, joyously clicking her camera, marveling at the perfect morning light while occasionally suggesting that I watch out for deer! I must interject a thought: It?s a good thing we love each other and are fairly even tempered! I had decided several miles back not to kill her. After all, I would be the only suspect with no alibi! And we did arrive back at Many Glaciers alive! And we did secure a room! And we were able to laugh about the fun of it all! (That was after I cleaned up the crime scene!! Just kidding!).

Our time at Many Glacier Lodge was beyond memorable. Well, maybe the Going-To-The-Sun Road wasn?t open yet up to Logan Pass (the record snowfalls of 2010-11 had piled the ?Great Drift? nearly 100 feet deep, rather than its normal 60-65!), but we did take the afternoon bus tour and our driver Anthony was funny & charming, as all Jammers should be. We did see sunlit mountain meadows and wildflowers, roaring rivers and waterfalls, mountain goats and a grizzly bear and our hearts were full to over-flowing at the grandeur of God?s creation. The only animal we never did see was a moose. We heard stories of many moose sightings, but happened to be elsewhere each time! However, between Yellowstone & Glacier, we were elated to have seen the following animals & birds: Buffalo, elk & antelope, mule deer & white tailed deer, black bear & grizzly bear, big horned sheep and mountain goats, bald eagles, osprey, cliff swallows and barn swallows, ducks, and a kingfisher, pikas and chipmunks, jack rabbits, golden mantle squirrels and a muskrat. I?d say that?s quite a plethora of wildlife sightings!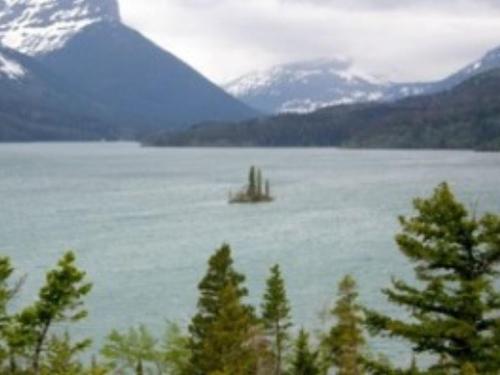 Since Logan Pass was closed we had to take the longer, southern route over to West Glacier. How glad we were that we did! It turned out to be a lovely, picturesque route with even closer views of mountain goats and their snow white kids. For once, we weren?t in a hurry! At one point, Mary Jane even shimmied under a barbed wire fence to take photos of a blanket of purple Shooting Stars, the most we had ever seen in one place! In the process, she spied a pure white Shooting Star which neither of us had ever seen in our lives! We arrived in Apgar with plenty of time to relax, explore, and each consume a dish of huckleberry cobbler a la mode which our Jammer had told us ?not to miss!? He was absolutely right! Thank you, Anthony! The only problem came when we were checking into our lodgings for the night. The conversation went something like this? Pat: ?So, do you have a cabin by the lake for us?? Lady at Front Desk: ?We don?t rent cabins! That?s next door, but they?re not on the water?? Pat, acting surprised: ?Oh? Do you have a room registered under my name?? Lady At Front Desk, looking at her reservation list: ?Yes, I have your name listed, but it?s not a cabin. Just a motel room.? Pat, obviously disappointed: ?I thought I saw a cabin at the water?s edge on your website? Hmmm, remembering former disturbing visions of sleeping overnight in the car? We?ll take it!? My shoulders slumped as Mary Jane & I walked toward the dark brown storefront door of our motel room. I hoped she wouldn?t be disappointed. I had wanted so much for her to love each place we stayed. Thinking I had made a terrible mistake & wondering if maybe we should high tail it back to River?s Bend Lodge, we walked through a full kitchen (dated but serviceable), to the main room with two queen beds. It was clean. It would do?

Then we opened the curtains! Oh, my goodness! We had a glorious view of Lake McDonald, ringed in sun-bright mountains, ever changing clouds gracefully lingering long & moving on, and a full rainbow across the side of one rising hill. Two Adirondack chairs faced the lake, which gently lapped at the huge table rocks cascading down to the water?s edge. Mary Jane even took a photograph from inside the room, looking out. She called it ?A Room With A View?, which is an understatement. Our mouths literally dropped open in awe! Disappointment? No! Incredulous? Absolutely!

However, the best was yet to come? Sometime after midnight and before dawn, Mary Jane called me to the window. Much like the time in Yellowstone when it had snowed, the sound of her voice when she enthused: ?Pat, you?ve got to see this!? told me that she was looking at something rare & wonderful not to be missed! Following my sister?s gaze, I looked out the window. The clear night sky was scattered with thousands of stars & stellar dustings. Have stars ever seemed quite so near? But the wonder was not over our heads but almost beneath our feet. The lake was smooth, serenely calm, and there was a perfect reflection & mirror image of the stars in the water. The dark sky was casting stars, like crowns, upon the water! Neither of us had ever seen such a sight before & I doubt we ever will again! It was other-worldly, more like a dream, and I know no words to adequately do it justice. Mystical, mythical, starlight, star bright. Beauty often comes unexpectedly? I have seen starlit skies that have been so beautiful I have held my breathe in awe, afraid that if I breathed the flickering starlight would disappear as if a vision. The stars in a clear sky in Central Oregon or over the ocean at Cannon Beach, from atop Mt. Hood or Mt. Rainier or scattered above Puget Sound on Orcas Island or above Crater Lake, the meadow at Camp Namanu when I was a child? all have caught my inhaled breath and turned it to exhaled praise! But not once in my life of over 60 years have I ever seen such a starlit view of Heaven like the one we saw that midsummer?s night. (?Heaven is under our feet as well as over our heads.? Thoreau)

Mary Jane & I still speak in hushed tones whenever we try to describe the sky reflected in the water, a time when we couldn?t tell which was up & which was down and knew it didn?t matter. In rare moments of time, we see reflections of glory and are never the same. We have been changed by our journey? by far away mountain glaciers, roaring rivers & waterfalls, an unexpected dusting of snow in Yellowstone, the newly born green of windblown Aspen leaves quaking & singing their summer songs to us in the Grand Tetons? But, nothing has changed us more than the stars both glittering over & shining from within enchanting Lake McDonald. No camera could capture it. We will have to trust our deepest hearts to keep the memory alive.

?Field and forest, vale and mountains, flowery meadow, flashing sea; chanting bird and flowing fountain, call us to rejoice!?

Adventure Awaits You,

Pat & Mary Jane (Two Sisters From Lake Oswego, Oregon)
2 Sisters trek through Montana, & visit Tetons, Yellowstone
August 13th, 2011

As many adventures do, it all started out as a promise. It could have easily been a dare, but let?s just call it a promise. When my sister returned from a trip with her husband to Glacier National Park two years ago, that?s all I heard about for days. She enthused about the mountains, the lakes, the vistas, the wildflowers, the red bus tour along the ever winding Going-to-the-Sun-Road, the moose they saw in Swift Current Lake, and so much more. When she suggested that the two of us go some future day, how could I say no?In fact, I promised that we would go, and soon. We are getting up there in years, my older sister faster than I, so we don?t have time to put off until tomorrow what we definitely want to do in our lifetimes!Not being one to break a promise if I can help it, I began researching in the late Fall of 2010. The more I looked at maps and searched the Internet, the more my imagination took wing. Well, if we were going to go to Glacier, it wasn?t very far from Yellowstone. I hadn?t been there since I was three! And look how close Yellowstone is to the Tetons! Oh my gosh, how could we miss the glorious Tetons? The trip seemed to expand almost daily. My sister joined in my enthusiasm, even though she couldn?t see it all taking form inside my mind!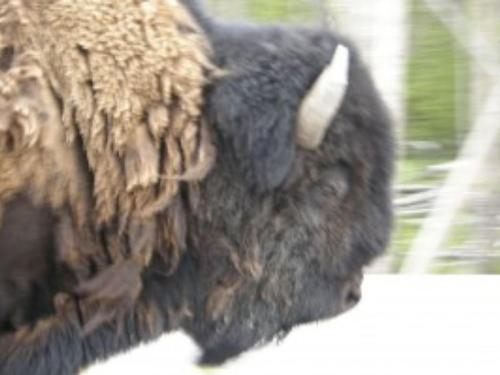 While researching hotels in which to stay on our ever expanding journey, I had an idea. If it costs almost the same amount to stay in a Bed & Breakfast (waited on hand and foot, not to mention mouth!) as it does to stay in a hotel/motel why not stay in some B & Bs along our way! My sister seemed pleased, although now & then I heard her question: ?How long is this trip going to be & how much is it going to cost?? Undaunted by her questions I responded: ?Not more than two weeks and not so much cost wise!? I don?t think she believed me?Finding Bed and Breakfasts was easy. When you Google it, a map of Montana pops up. Hmmm. I wanted to find a B & B halfway between Yellowstone & Glacier. That would make sense! The map of Montana showed red pins for all of the B & B locations. It was just my luck or blessing to find a pin stuck in the map almost exactly halfway between Yellowstone and Glacier. The name of the B & B was River?s Bend Lodge and it was located perfectly, right near the road to the East entrance of Glacier National Park. Yes, they had room for us! I booked it immediately. The fisherwoman in me told me not to let this catch get away. I could tell my sister after the fact!And that is how two Sisters from Lake Oswego, Oregon ended up at the enchanting and picturesque B & B known as River?s Bend Lodge! But, wait? I?m getting ahead of myself! We had miles to go before we even arrived at River?s Bend! First we drove all the way across, well most of the way across, Montana. When it came to the driving, my reasoning went something like this: If my sister, Mary Jane, drove it would take a little longer and we would arrive safely! On the other hand, if I the younger sister (Pat) drove, we would arrive much sooner and it would be a perilous drive. Therefore, I tried to do as much of the driving as possible! Only once or twice did Mary Jane gaze sideways at the speedometer and comment on my driving speed compared to the speed limit. I went right on driving! When she next pointed out the numerous little white crosses along the highway, I slowed down. I must say it is difficult to drive slowly when one is driving on a wide open freeway that the setting sun is turning to pink ribbon, singing along with the CD of John Denver?s ?Wild Montana Skies.? The journey was not nearly as perilous as Mary Jane imagined and it met all of my criteria for a fun-filled adventure. We arrived safely, although much later than we had planned, at our first destination?a B & B right outside the entrance to Yellowstone National Park. It was already dark by then. We fell into bed too tired to care where we were. All we cared about was SLEEP!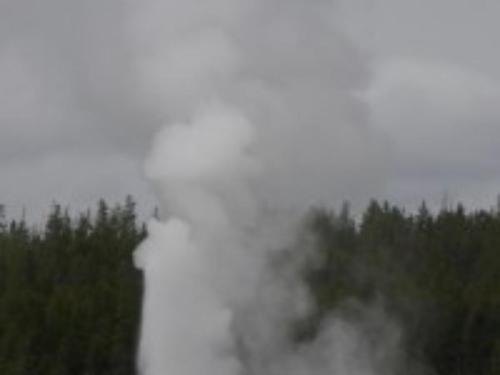 Morning broke, along with the eggs upstairs in the kitchen, early. Mary Jane, the ever consummate photographer, was already outside with her camera. I looked out our bedroom window and gasped! We were situated on the Yellowstone River, with a snow covered peak almost within reach! How could I have possibly missed such exquisite details during my trip planning? The day awaited. The sky was blue and beckoning! After Mary Jane had photographed to her heart?s content, getting dive-bombed by a nesting Osprey with chicks only half a dozen times, and after a scrumptious breakfast, we were off to explore.We spent the entire day in the wonderland that is known as Yellowstone National Park, the first national park ever established in the United States, in 1872: breathing in the vapors of prehistoric, mosaic-colored geysers; having a buffalo nearly stick his prominent head in our car window (Great picture, by the way, Mary Jane! Sorry that we hadn?t already read the sign about buffalo goring tourists or charging their cars! But, you did great, sister, and you got the window up with deft perfection!); timing our watches to see Old Faithful go off every 92 minutes ( it sure looks different from when I was running to jump into the ?big bathtub? when I was only three and Dad caught me by britches just in time! How was I to know it was dangerous? And, later when I was feeding that bear my peanut butter & jelly sandwich out the car window, how was I to know he could have just as easily snacked on my hand? Hey, I was only three and totally innocent!); seeing our first bear, herds if buffalo lounging with their calves and literally watching ?the deer and the antelope play?. Yellowstone is truly an ever changing kaleidoscope of colors and natural wonders. You drove through that thunderstorm skillfully while I was napping, Mary Jane, and we arrived at our destination once again after dark! What a day! We often ask each other, half in jest: ?Are we having fun yet?? To that we can attest, ?Yes! Absolutely and phenomenally, YES!?

When we walked outside our stream side cottage in the morning, I couldn?t see the Tetons anywhere. Being directionally challenged, once Mary Jane suggested I turn around toward the West, there they were?the Grand Tetons, soaring like snow-covered spires towards the heavens! It was enough to take one?s breath away. In Oregon, we have the rugged Cascades and majestic Mt Hood right at out doorstep. I wouldn?t trade them for anything nor would I want to live anywhere else on earth! But the Tetons are something truly glorious, especially in mid June. They are luminous sentinels of time, marking the history of ages! For three days, we drove up the ?great white way? each morning, toward an ever expanding world of wonder. Each lake, lodge, evergreen path, wildflower, wild animal, vista and vision told us we were in a time like no other, a sacred place where all is timeless. I could picture the Indians and expansive buffalo herds of old, the pioneers trudging courageously on, John Muir climbing ever higher, the first steam engine puffing by, scattering those (both animal & human) who had been used to only pristine pauses of calm and praise.?Everybody needs beauty as well as bread, places to play in and pray in, where nature may heal and give strength to body and soul alike.? John Muir
Guest Chef Megan visits Montana and Catches Large Trout!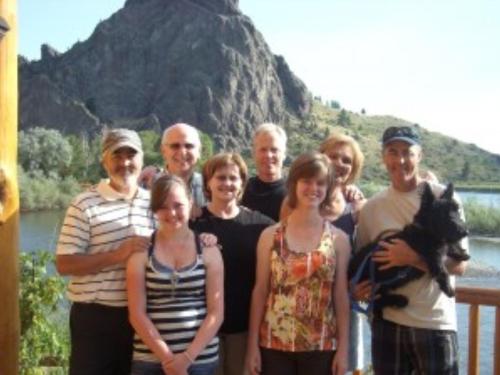 August 1st, 2011

Megan and her parents came to Montana for a Family Reunion and a little R&R under the Big Sky. Her father Greg, his sister Barbara,and brothers, Larry and Chuck met at the River?s Bend Lodge with children and spouses.

During their stay at the Lodge in July they attended the Air Show in Great Falls, did some hiking at Tower Rock State Park (only 10 minutes from the Lodge), fished a little, some river rafting, and a lot of reminiscing of child hood days in Montana.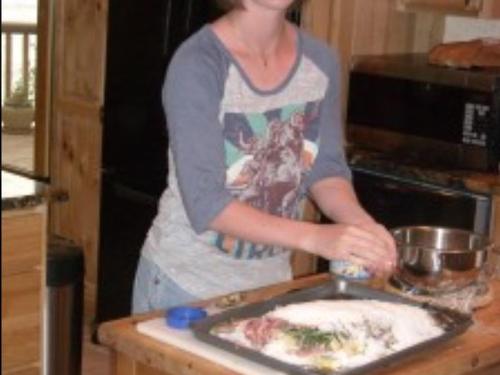 During the fishing outing, Megan caught the largest fish in her life, got to experience cleaning a fish (yuk) and cooking it. Megan caught not only the largest fish of her life but out did her father, and uncles on this outing.

It was exhilarating to watch the excitement and energy with which Megan attack each stage of the process from river to table, she was quite excited about catching such a large fish, but really didn?t care much for the blood and guts stuff, which got her considerable razing from her father and uncles. I helped her gut the fish on their return to the Lodge (which means I cleaned it for her.) Megan was excited to learn the process but?. from a comfortable distance.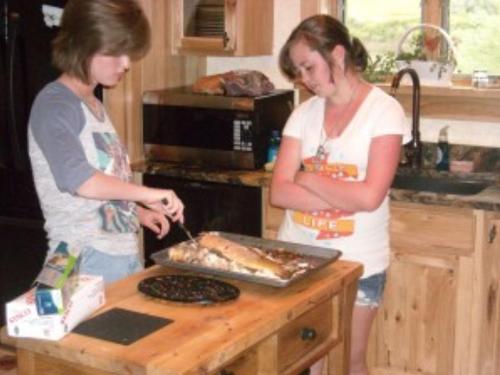 I told her I would help her cook the fish as well but? she would have to cook it unlike the cleaning?. LOL. The next evening I instructed Megan, in the Salt-Crusted method of preparing Trout. She added a little onion, garlic, fresh rosemary, fresh thyme, lemon zest, and lemon slices for flavoring and baked her prize Trout.

It was FANTASTIC, GREAT JOB MEGAN from the river to the table.
Lodging Available 4th of July Weekend on Missouri River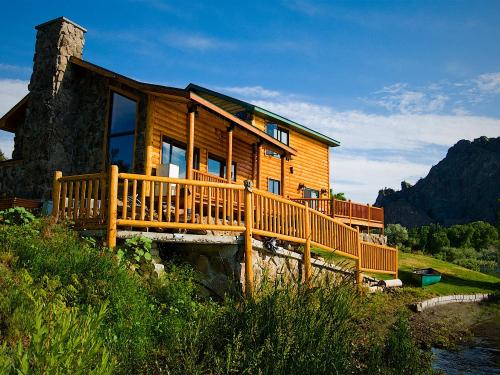 July 1st, 2011 by sorendetienne
The 
River?s Bend Lodge
, at Hardy Creek, still has a few rooms available for the 4th of July weekend. the Lodge is on the Missouri River about 15 miles north of Holter Dam exit 247 on I15, 57 Seibold Lane (the Prewitt Creek Fishing Access Road).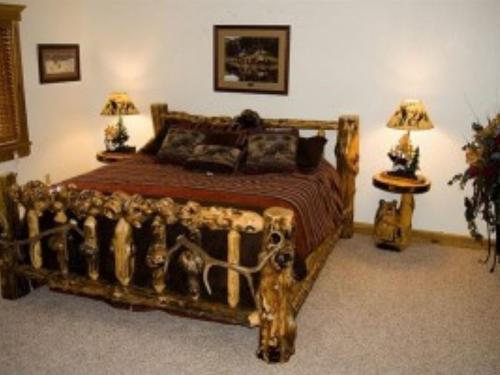 Make your reservation soon rooms are limited. You can view each room, pricing, and availability on our Internet site. While your at the site check out some of the blogs!

River?s Bend Lodge is on the Missouri River about halfway between Craig and Cascade and/or Great Falls and Helena depending on your reference points.