Blog
Montana fly fishing in the rain
Friday, May 28th, 2010

If I didn?t know better I would think I was living in Seattle,WA not on the Missouri River in Montana. It has rained every day now for at least a week and forecasts are for another week of rain. If you are in Montana and looking for a warm fireplace and a comfortable bed try a Montana bed and breakfast out you won?t be disappointed.
One thing that doesn?t change though every day I see at least 4 or 5 drift boats with die-hard fisherman casting their flies. Just a few moments ago one of those fisherman caught a 20+ inch rainbow.

He deserved that catch, its cold and wet out there! I could see from the smile on his face as he was bringing in his catch that cold and wet were not in his vocabulary. He removed his rain hood and glasses while the fishing guide kept the netted rainbow submerged in the river, when the fisherman was ready the guide handed him the net and fish and took a picture of the fisherman and his trophy rainbow. I can only imagine the stories that will be told in front of the fire tonight!

Other than a few brave fisherman not mush has been stirring along the Missouri River, the Canadian geese were out awhile this morning before it really started to rain. Two pelicans flew upriver and came floating back past the Lodge, they are beautiful birds in flight but rather ugly when landed, or floating.
Sturgis Bike Rally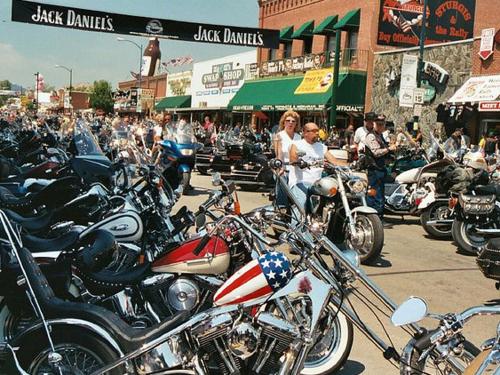 May 26th, 2010
If you are traveling from Washington, or Canada and going through Great Falls, MT on the way to Sturgis bike rally or returning home check out our 
Montana bed and breakfast
. How many of you are riding a Harley Davidson Sportster? On Check-in tell me you are riding a Sportster and receive a 15% discount. ( even if you really aren?t).
Rivers Bend Lodge-Great Room
May 24th, 2010
While staying at the 
River?s Bend Lodge
 last weekend Kim & John had a great time even though it rained all three days of their stay. Normally in mid may they wouldn?t have had a chance to enjoy our great fireplace but because of the rain and cooler temperatures they were able to enjoy a crackling fire with their wine in the evenings.
John is an hobbyist photographer and quite talented at it he took many photos of the wild life and birds some that I posted on earlier blogs some that will be coming later. he also took some very nice photos of the lodge, including this one of the Great Room in the morning sun.
We had one group of thirty goslings on the lawn yesterday with three pair of geese watching over them it was quite interesting to watch how the parents herded their young; urging them on with heads and neck just a bobbing in the direction they wanted the goslings to go.
Missouri River Birding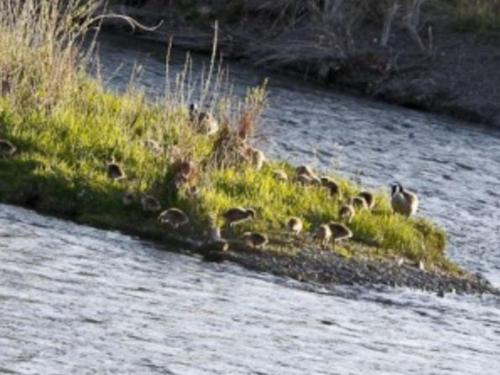 May 22nd, 2010
These are some photos taken by one of our guests at 
River?s Bend Lodge
, a 
Montana bed and breakfast
 yesterday.
Hopefully I will have the one of the goose on the cliff tomorrow!
Goslings in spring storm on Missorri River
I took some pictures of the goslings during the snow storm we had last week. Hopefully you can see them walking in the rapids. We had one of those late spring storms Montana is famous for Helena and Great Falls got more snow then we did in the canyon at Hardy Creek.
A MONTANA TROUT FISHING VACATION
Saturday, May 22nd, 2010

Are you thinking about a Montana trout fishing vacation? Check out The River?s Bend Lodge a Montana bed and breakfast on the Missouri River.

Are you looking for a non crowded, large river with lots of big trout? Rainbows and Browns range from 14 inches to well over 24 inches. The hatches on the Missouri are prolific and include Mayflies, Caddis, Midges, and Stoneflies.

Perfect conditions abound along the Missouri River. Low clear water, lots of huge browns, and rainbows, are here for the taking. This section of the Missouri (Holter Dam to Pelican Point) is hot?. the fish are big and plentiful ?2010 may be the best year on the Missouri in a years, 4000 fish per mile, and prolific hatches.? This Blue Ribbon Trout Stream may just be the best in the country!

The mighty Missouri is an extraordinary insect hatchery that flows from awesome mountain vistas into a beautiful canyon that culminates at Tower Rock opening out onto a spectacular prairie. With thousands of fish per mile and a huge river it is truly a delight to fish. With rising fish from the April thru November, and lots of guiding services available it is easy to plan a successfully fishing outing.

Should you not catch as many large trout as you hoped for the abundant wildlife, fishing bald eagles, osprey, and pelicans will keep you spell bound.

Click on the photo at the right to see the entire series, this is number three of six photos even the raptors come up empty occasionally!
New Rivers Bend Lodge WordPress Website and Blog
May 20th, 2010

River?s Bend Lodge is pleased to announce that our new WordPress-based Website and Blog has launched. The new website provides us with greater flexibility and control over our site content and the blog enables us to keep all our website visitors up to date with happenings at River?s Bend Lodge and in our area along the Missouri River in Montana. 
BIRDING ON THE MISSOURI RIVER IN MONTANA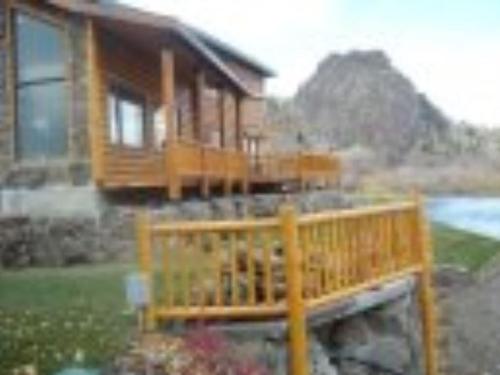 Thursday, May 20th, 2010

If you are visiting Montana and wish to do some birding and exploring along the Missouri River, checkout a Montana Bed and Breakfast on the Missouri River at Hardy Creek (exit 247 off Interstate 15) half way between Great Falls and Helena.

As I am writing this blog looking out the lodge?s dining room window an osprey is devouring the results of its last fishing dive, on a sand bar in the river.

A pair of Canadian Honkers and their goslings (8 of them) are out for a swim. I never tire of watching the geese care for their young, the goose or gander in front, goslings in the middle, and the other parent bringing up the rear. The goslings are either in single file or pairs never have I seen them in clumps, between their parents. Most of the pairs have approximately 6 goslings this year. One pair that visits our yard daily only has only one gosling the parents are especially protective of this single offspring. One pair had twenty goslings with them two of the twenty were considerably smaller than the other eighteen.

I wonder if geese ever babysit another pairs? goslings, do you know?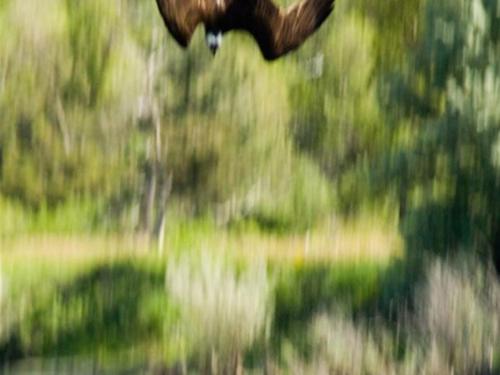 Have you ever seen a goose land in a tree? Geese land frequently on the rock cliffs across the river from our lodge usually in pairs.

In the last couple of weeks the pelicans have started to appear along this stretch of the river again. They fish in the shallow waters between the lodge and the rock cliffs and can be seen floating along with the current of the river most days or gathering together on a sand bar down stream.

The Bald Eagles are nesting I watched a couple building a nest in a tree along the river yesterday. Several have been flying around Tower Rock in Tower Rock State Park during the last couple of weeks. I have not spotted their nests yet but have seen them fishing. It is so exciting to watch them dive for fish and bring the fish out of the water in their talons to fly away. Last year I watched several of them catch fish that must have been too large for them to leave with. The eagle flapped its wings on the water until it was able to get to shore where it ate part of the fish before flying off with the rest in its talons.