Blog
Montana for a little R&R and a Wirehaired Puppy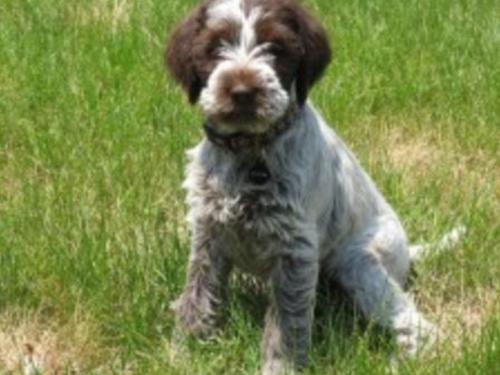 June 18th, 2011 by sorendetienne

Lauri and Blair visited the River?s Bend Lodge along the Missouri River last week and took in some of the unique Montana scenery and history. The main purpose of their trip to Montana was to get Ruby, a Wirehaired Pointing Griffons puppy. Searching the web for Griffons Breeders they found one in Choteau with puppies that were just the age they wanted.

Being an artist Blair was excited to visit the Charles Russell Museum in Great Falls were they were able to see original paintings and bronzes from many Western Artists as well as some of Charles Russell?s and visit Charles? home and studio while learning about his life and times (1862-1926) as a Montana Cowboy & Artist.

Lauri was hoping to be able to hike Tower Rock, an original campsite of The Lewis and Clark Expedition, which has been designated a Montana State Park; and is within easy walking distance of the River?s Bend Lodge. But, because of heavy rain showers, the two days they stayed with us at the Lodge, Lauri and Blair opted to visit the Lewis and Clark Interpretive Center in Great Falls, to learn about adventures of The Lewis and Clark Expedition over hiking in the rain and mud. Hopefully when Blair returns in the fall to fish the Missouri River, the weather will co-operate and they will be able to hike Tower Rock? maybe even Ruby will be able to come with them.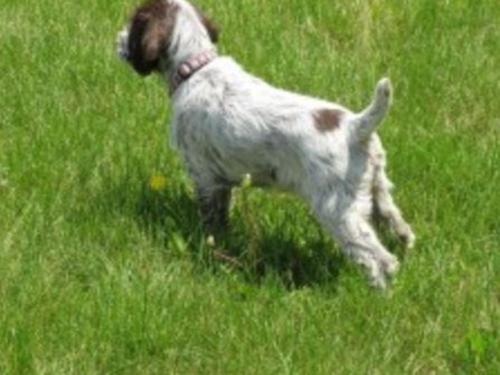 Blair was able to get a few hours of Fly-fishing in near Wolf Creek, below Holter Dam between thunder storms?. he caught a couple of Rainbow Trout?before being rained out! Lauri told us she didn?t fish, but enjoyed going along to look at the scenery, birds and wildlife, while her daughter, on the other hand was an avid Fly-fisher-woman?.

Lauri and Blair left on Thursday to pick up Ruby the Wirehaired Pointing Griffons puppy they were getting from a Breeder in Choteau and return home to Denver.
Since Cindy and I would not see them before they left Lauri emailed us these photos of Ruby when the got home. Ruby definitely is a heart stealer?. It was a wise choice getting her in Montana, Blair you can always claim to have to bring her back for a visit and do a little, or a lot, of Pheasant Hunting and some Trout fishing in the fall. I just happen to know some really great places! Guns and Rods in Montana is as close as you can get to ?Heaven?. LOL
Breakfast Under Tower Rock over looking the Missouri River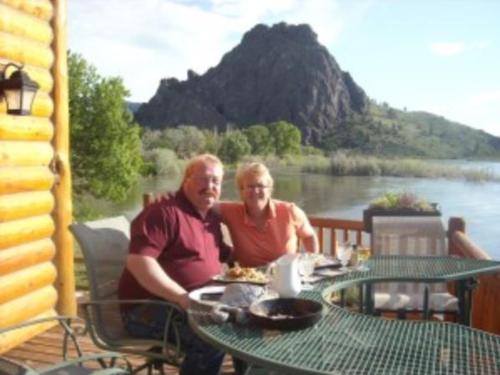 Friday, June 17th, 2011
Brenda and Terry from Turner, Montana stayed with us at the 
River?s Bend Lodge
 Thursday night. They were visiting Great Falls to do some shopping and pick up their son Dusty at the airport on Friday.
Dusty 17 years old is flying back from Washington DC, he won the trip to visit our Nation?s capital by writing an essay for a contest sponsored by the Rural Electric Co-Op?s. Dusty won, Big Flat Electric?s Trip to Washington DC with his essay.
This was also Brenda and Terry?s Anniversary get-away, so of course I had to make them ?The Cowboy Lover?s Apple Pancake? for breakfast and served it on the deck overlooking the Missouri River. And yes I had to tell them ?The Story? behind the name?. check out the link?

Hopefully Brenda and Terry will return later this Summer I?m sure they will need some kind of an excuse to try out their anniversary present to themselves?? A new Harley?. Alright!

Terry loved the bed in their room, the Elk horn Suite.
Cowboy Lovers Skillet Apple Pancake
June 17th, 2011 by sorendetienne
This is one of my favorite breakfasts to cook, it?s simple, it?s quick, and easy, the name I made up, because even a Montana Cowboy can?t screw this recipe up and most of us have a cast iron skillet.
The Lover?s part comes from the ingredients, sugar, spice and everything nice just like our girls, EH boys? I usually cook this for our Honeymooners and Anniversary guest. Just so I can tell them the story?LOL . Everyone so far has loved the breakfast and the story? knock on wood?.
The recipe comes from the cook book Inn At The Crossroads by Pamela Lanier.
3 tablespoons unsalted butter
2 large firm Apples, peeled, cored, and sliced to ¼ inch thickness
3 eggs
1 teaspoon granulated sugar
¼ cup (packed) light brown Sugar
Pinch of salt
½ cup milk
½ cup all-purpose flour
¼ cup ground cinnamon
Heat oven to 450 degrees. Gently melt 2 tablespoons butter in a large (12 inch) ovenproof skillet. Add in apple slices and heat until tender, about 8 ? 10 minutes.
Add 2 tablespoons of the brown sugar and stir to combine; remove from heat. Whisk the eggs, granulated sugar, salt, milk, and flour together in a bowl and then pour the mixture over the apples in the skillet.
Bake in the oven until puffy, about 10 minutes. While the skillet is in the oven, mix the cinnamon and remaining brown sugar together.
Cut the remaining tablespoon of butter into small chunks, when the pancake puffs, remove it from the oven, dot it with butter, sprinkle with the cinnamon/brown sugar mixture and return to the oven until browned, about 10 minutes.
Let set about 5 minutes and serve.
Yield: 4 servings
Fly fishing in Montana on the Missouri River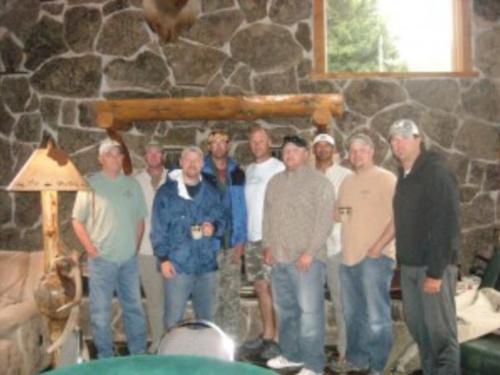 June 14th, 2011

Nine Fly-fishermen came to the River?s Bend Lodge at Hardy Creek / Cascade, Montana to fish the Missouri River. Each day two of the Guys fished with Guide Mike Agee and the others floated the Missouri from Holter Dam to Craig The Guided Fishermen caught an average of 75 to 80 fish a day between two fishermen. They returned to the lodge each evening with tales of many fish and sore arms ?.. each saying they had just experienced the best day of fishing in their lives. While the Fly-fishermen that were on their own didn?t catch as many fish everyone caught some fish, a good time was had by all?..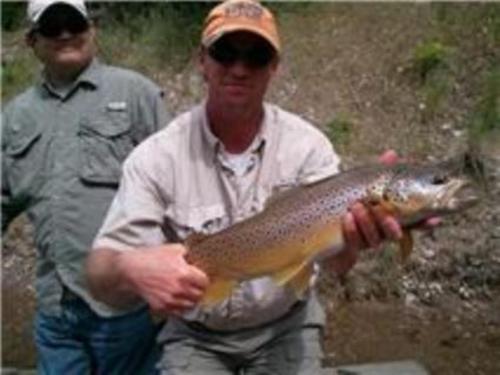 The weather was perfect for three of the four days they were at the Lodge, sunny and in the 60?s to 70?s, the last day it rained hard all day. The Missouri was as high as I have ever seen it in my 17 years at Hardy Creek. While on the river, taking a break (from catching to many fish) the guys took a video of an Osprey attacking a Bald Eagle attempting to steal the fish, that the Eagle had just caught. The Osprey was not successful, however, and the video file was too large to download for this blog.

So can you catch too many fish or is that like the song ?Too much Fun? ? LOL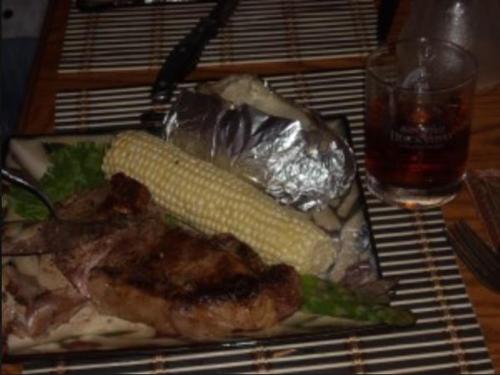 For dinner on their last evening at the Lodge, Cindy cooked them 16 oz New York Steaks with her signature peppercorn sauce; sides of salad, baked potatoes, corn on the cob and for desert Blondie Brownies, with homemade Vanilla Bean Ice Cream covered in Carmel & Chocolate Sunday Syrup and crushed pecans. Mmmmm Good!!
Fly-Fishing in Montana on Missouri River Part of Bucket List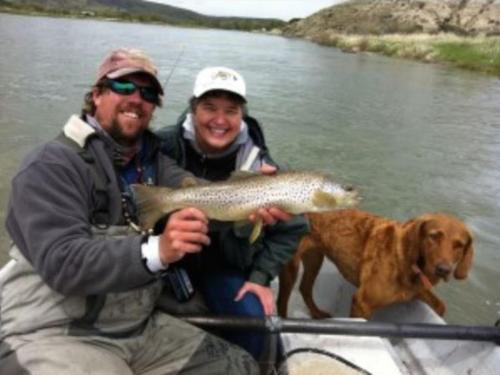 May 30th, 2011 by sorendetienne
Two Southern Belles from Texas, came to Montana in quest of filling part of their bucket lists. Visit Montana and learn to Fly-Fish. Karen and Sonemaly stayed at 
River?s Bend Lodge
 for two days while learning to be Fly-Fisher-women with Guide Jay Dixon. The First day out they spent seven hours on the Missouri River, Fly-Fishing? it rained intermitantly and was colder than normal? but they had a great time and caught several fish each. These ladies had such a great attitude, the river was high and weather was not the best?they insisted, ?It beats triple digit heat any day of the week!?
Even as beginners they had great luck, way better then my first time, all I caught were bird nests. It reminded me of fishing with my grandsons; I spent most of my first time, untangling fishing line!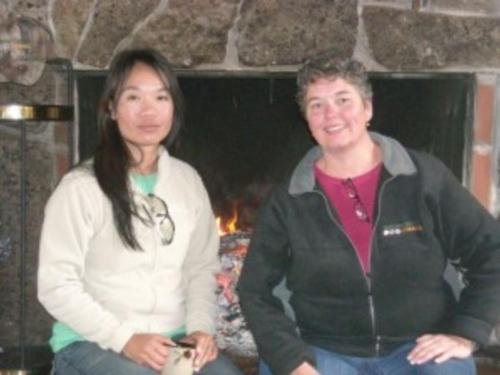 Day two of their Montana Fly-Fishing Adventure was colder, with lots more rain and hail? and yes several more large fish?The ladies returned to the Lodge cold and soaked to the skin.
After drying of and getting fresh clothes on they came down to the Great Room to warm up in front of the fireplace. Sonemaly and Karen showed us the pictures of their day and told us of their great adventures on the river, the fish, the Guide Jay Dixon, ?. the big one that got away?. and their plans for a return trip to the ?Big Sky Country??.ASAP Karen said she would highly recommend Jay as a guide and trainer for beginners he was entertaining, knowledgeable, patient, and put them on fish under difficult conditions.
Karen 
writes a Travel, Food, and Wine Blog
 ?. if you are interested follow the link, she assured me she would be writing about her trip to Montana!
I hope these ladies will be able to return this fall and experience Montana?s ? Blue Sky? , normal river flows and possibly Glacier Park?
Fly Fishing in Montana on the Missouri River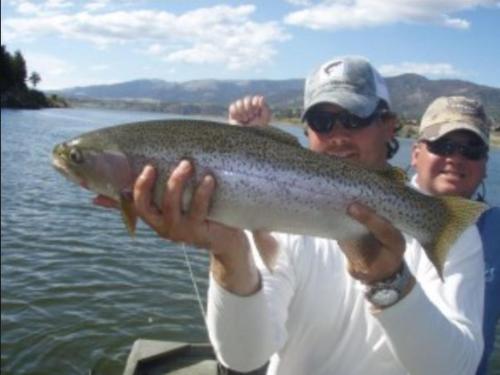 May 26th, 2011 by sorendetienne

Today May 25,2011 the Missouri is running at 15,400 (cfs) below Holter Dam, the Deerborn is running at 2,900 (cfs). The tributaries, especially the Deerborn are adding a lot of dirty water to the Missouri right now, a strong mudline can be identified on river left when passing the Deerborn and on down stream through Marshall Lanes. Just before dark I saw enough rising fish had it been earlier in the day I would have been tempted to try a few dry dries.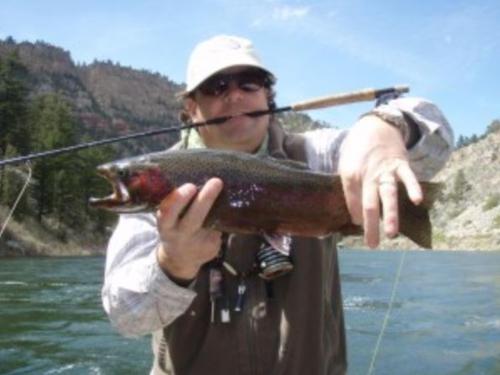 My buddies Micheal and Karl from Nashville, Tenn. stayed at the Lodge a week ago for four days of fishing on the Missouri River; the first and third days they fished below Hauser Dam with Mike Agee as a guide. Micheal Weaver told me they caught over 20 fish the each day with 4 to 6 of them 24? or larger.

Click on either photo to see more pictures from the Montana Fly-fishing Vacation.
Montana State Fair Lodging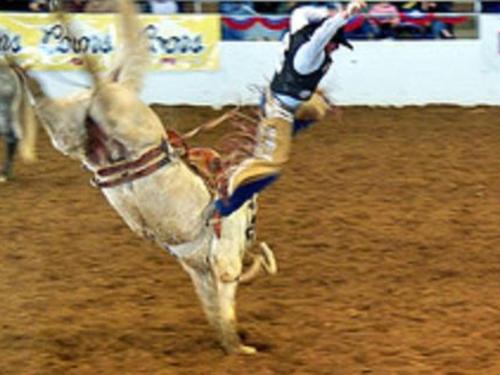 Are you coming to the Montana State Fair July 29, thru August 6, 2011 ?

The River?s Bend Lodge, at Hardy Creek is a great place to stay. A Montana Bed and Breakfast on the Missouri River a short 30 minutes south of Great Falls, MT., near Tower Rock State Park (an original campsite of the Lewis and Clark Expedition) on Interstate 15 exit 247.

he Big Sky ProRodeo Roundup will maintain the pinnacle in Montana Rodeo with payouts expected to top $110,000 this year! A PRCA Event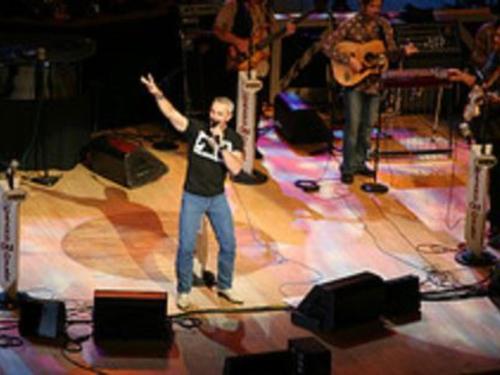 The Entertainmentis also going to be exceptional with The Charlie Daniels Band, Eric Church, REO Speedwagon, and much more. I heard that the Texaco Country Showdown is supposed to be great this year!
Aaron Tippin is also going to be here. I am excited to see Aaron?s show.
For a map to River?s Bend Lodge click 
here
.
One Helena Hundred Cycling Race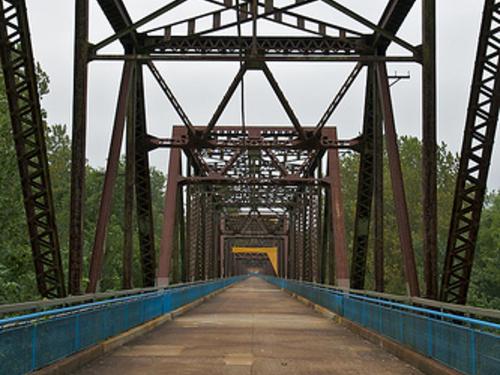 May 10th, 2011
The ONE HELENA HUNDRED A Scenic Century along the Missouri River scheduled for JULY 16th ? 2011. Proceeds help support the advancement of cycling in the Helena area. If you?re riding in the One Helena Hundred, and need a wonderful lodging option close to Cascade, MT, check out 
The River?s Bend Lodge
, at Hardy Creek. We?re within walking distance of the Prewett Creek Fishing Access.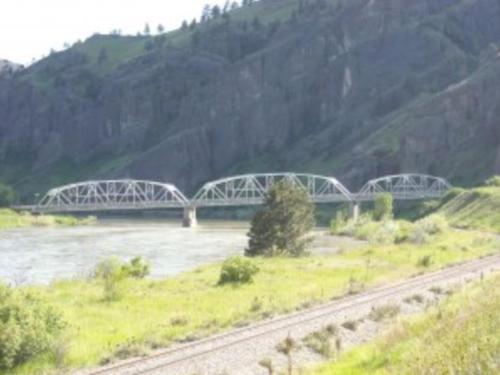 I decided as long as we were showing Missouri River bridges it would be nice to see the Hardy Bridge (also known as the Untouchables Bridge). I believe the ONE HELENA HUNDRED will take you over this Bridge.