Blog
KNITTING AND QUILTING RETREATS
November 30th, 2010 by sorendetienne
Cindy and I had the pleasure of having Sandy and Jacquie stay with us over Thanksgiving. Sandy has considerable marketing experience and shared some fantastic ideas with me for marketing the River?s Bend Lodge a Montana Bed and Breakfast . The 
River?s Bend Lodge
 is a beautiful log and stone structure on the Missouri River 1/2 way between Great Falls and Helena, Montana with great access from Interstate 15.
I am interested in putting together retreats for Knitting, Quilting, Writing, and/or small seminars, our facility will sleep 11 adults double occupancy one room sleeps 3. Is anyone interested in coming to one of these retreats or another business owner (Quilting shop, book store, craft store, etc) interested in joint venturing one of these retreats? Email me at [email]rivers.bend@hotmail.com[/email] .
THE GREATROOM
The Lodge has a 1000 square foot well lighted Great Room (natural light and electrical) over looking the Missouri River where Canadian Geese, Swans, Bald Eagles, numerous other water fowl, and animals such as beaver.otter and deer can be viewed from the Great Rooms picture windows.
Winter Geese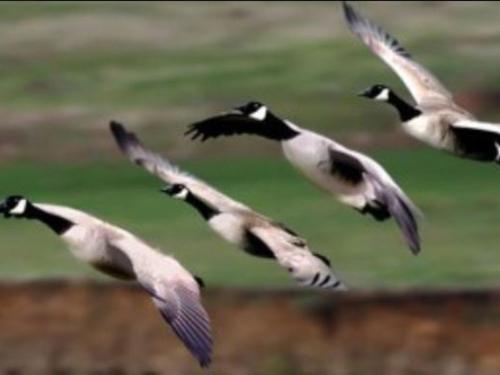 November 24th, 2010 by sorendetienne

It has been in below zero -2* to -20* for the last 3 days the only thing moving much around here are the Canadian Geese. I guess the water is warmer then the air, for sure as it is not freezing over yet. The only thing I have seen them do that indicated they were aware of the coldness is to gather in a considerably large flock on a sand bar across the river from the Lodge. Some of the geese would fly up river half a mile or so (usually not out of sight of the flock) and let the current carry them back to the sandbar where they would rejoin the rest of the flock.

Yesterday I watched them returning from feeding in the fields as they came back to the water they landed in groups of 4 or 5 close to the sand bar usually up river but not always. I remember thinking it resembled a busy airport and I wondered who was the traffic controler, because he was doing a great job! One group would touch down and the next one would be on final wings in full flap position.

It was wonderful to watch and listen too. Even earily in the morning there is just not any sound greater to wake up to than the Canadian Honkers? trumpet!

The fog and moister from the river did not seem to hinder anything; Iwas wondering how do the geese navigate in the fog and is icing ever a problem? The visibility must have been down to about 100 feet with a ceiling of about 50 t0 75 feet during most of the day.

I have seen no Birds of Prey for almost 3 weeks now. I think they must have given up and went further south for the winter.
Wildlife Viewing in Montana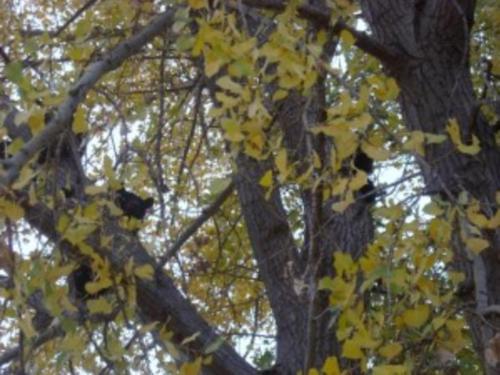 October 28th, 2010 by sorendetienne

Good Morning from Montana, as I was leaving this morning I noticed four Black Bear a sow and three cubs in a tree next door! Can you see three bear in this photo?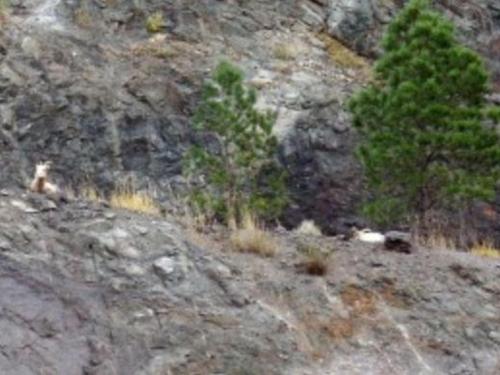 I was on my way to Deerborn and had only gone a few miles when I spotted these three Bighorn Sheep, a small ram, one ewe and a lamb; you have to love Montana but what a great way to start the day.

Oh did I mention the monster, Muley Buck in my front yard!! I didn?t get a photo of it but I will soon.
Thanksgiving Lodging & Dining Special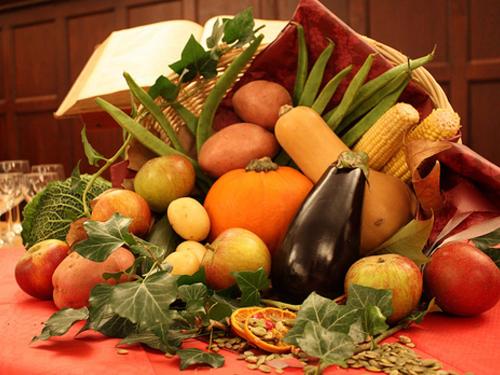 October 28th, 2010 by sorendetienne
Visit the 
River?s Bend Lodge
 on the Missouri River in Montana for Thanksgiving and get it all. Great company, a Thanksgiving Feast that lasts all day, scenery in full fall colors, wild life and bird viewing, and a quiet comfortable sleeping room in the fresh mountain air.The SLEEPING ROOMS:
Rent one of The
 River?s Bend Lodge?s
 Suites stay 3 or 4 nights and get the room for $115 per night that is a $50.00 per night savings. Get an all day Thanksgiving Feast for $25.00 per guest, invite your friends to join you for Thanksgiving Dinner.The FOODTurkey & dressing, honey glazed ham, cranberry sauce, baked yams, green bean bake, sweet baby carrots, mash potatoes and gravy, scalloped corn casserole, pumpkin pie, apple pie, coffee cake muffins, crème Brule in miniature pumpkins, and homemade bread!
World Class Fly-fishing Day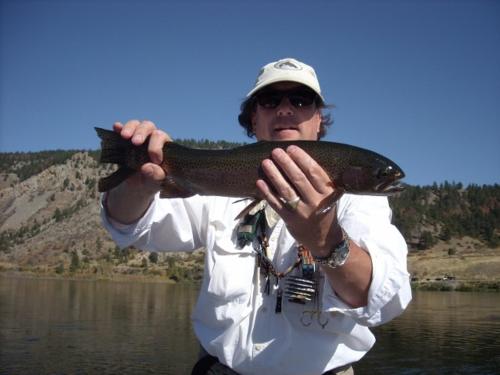 October 6th, 2010 by sorendetienne

Last week I had the pleasure of meeting Michael when he stayed at the River?s Bend Lodge . Michael, a Tennessee resident, was in Montana on business for several days and decided to stay a couple of extra days to go Fly-fishing. Michael took me Fly-fishing with him on Friday Oct 1st, what a great time we had, a drift boat was dropped off just below Holter Dam for us. As we loaded our fishing gear and beer in the drift boat the fish were jumping all around us. Michael tried several different Flies over the course of the next half hour without much luck . He said ?this is the greatest frustration of Fly-fishing watching them feed and not being able to figure out the right fly.? Michael tied on a hopper and a nymph Pheasant Tail Fly he had tied himself and the fish taking began. Over the next 6 to 7 hours Michael would catch thirty trout only three of them were Brown Trout, 27 were Rainbow Trout, eight were over 20? long the biggest being 26 ½? long! Four of the trout three rainbows and one brown were about 12? long, Michael classified them as small!! The rest of his catch for the day were between 16? and 20? what a day we had.

We happened on a pod of Trout feeding on bugs on the surface or just below the surface of the river, their heads would just break the surface of the water and back down they would go. It was exciting to watch those heads and mostly large ones at that, come out of the water in a feeding frenzy. Michael caught his first 3 fish, all of them over 20? out of this pod of approximately one hundred and twenty five fish.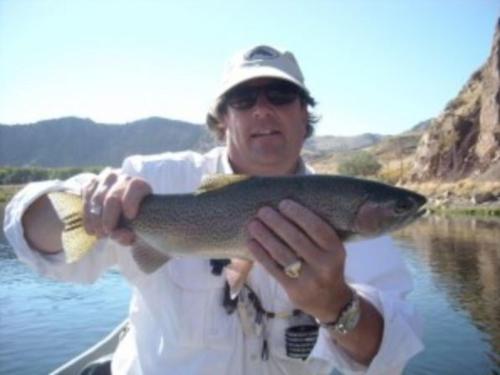 Did I tell you Michael caught all these fish while teaching me row the boat! I?m a little hard of hearing and he was facing away from me most of the time, so he developed these hand signals to tell me where he wanted the boat. Watching him up there in the front of the boat with both hands going trying to get me in the correct spot was a hoot.

Trying to keep that boat in sync with the current and get to the desired spot on the river while avoiding the other anglers is no easy task. I gained a lot of respect for the fishing guides that do it day after day.

We drank our first beer after the 3rd large Trout was caught (Michael?s rule ?no beer drinking until after the first 20? trout is caught?). Michael didn?t get to drink much beer, that day, he was to busy catching trout, not to worry though I drank his share.

Michael has Fly-fished in Europe, South America, and North America but, Montana is still his favorite spot! He has fished more rivers in Montana than I have, and I am a Montana native living here for 58 years. As he was leaving on Sunday I asked him how his Fly-fishing expierence had been this trip. He said ?Soren I have had two back to back WORLD CLASS FLY-FISHING DAYS I will be back soon.?
Is it hard to catch trout in Montana?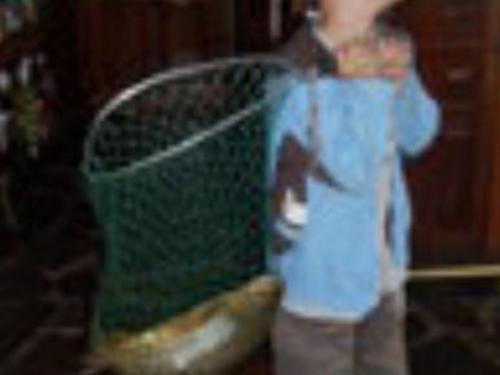 October 4th, 2010 by sorendetienne

Ever had one of those days fishing while on vacation no matter what you tried it didn?t work. I was having one of those days fishing or trying to, with my two grandsons Soren and Nevan (5 years old) when they visited me this summer at the Lodge . We finally gave up the ghost and came home, Nevan wanted to try a few casts of the front yard on the Missouri River, my son in-law took him down to try his luck! This 24? Brown Trout was the result of his first cast. The whole day was instantly a success and all the tangled fishing line, blown casts, hooked fingers , lost tackle, wet feet, etc. were forgotten. New bragging rights had to be established!!